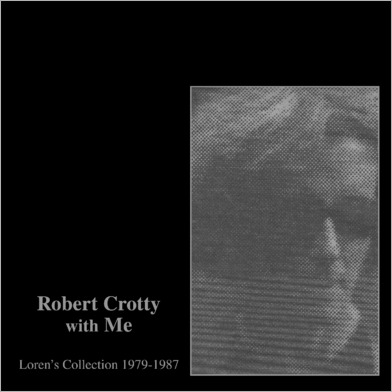 Robert Crotty with Me: Loren's Collection (1979-1987)
Robert Crotty & Loren Connors
FV96 LP + CD/2xCD/MP3
Released December 8, 2017
LP + CD

2xCD

$14.00

MP3 Download

$9.99
Tracks:
3.

Improvisation No. 5

(1:22)

5.

Improvisation No. 1

(1:21)

7.

That's All Right

(4:25)

9.

Bye And Bye, I'm Going To See The King

(2:42)

10.

Honeymoon Blues

(4:56)

11.

Improvisation No. 3

(0:58)

12.

Improvisation No. 2

(2:52)

13.

Georgia On My Mind

(1:52)

14.

Somewhere Over The Rainbow

(2:42)
"I would go as far as to say that the few recordings that exist of these Robert Crotty sessions are among the finest and most beautiful blues documents of all time." -- Loren Connors
In the years 1978 to 1981, Robert Crotty would show up on Loren Connors' doorstep in New Haven, Connecticut with his tiny, almost toy guitar. The two would then spend hours playing acoustic blues, the likes of which was absolutely staggering in its truthfulness.
Robert Crotty with Me: Loren's Collection (1979-1987) is the first anthology of the late bluesman's work, as selected by his former playing partner. These are the unheard tapes of Crotty and Connors communing with the spirits of Delta and County Blues through their own revisions of standards and tingle-inducing improvisations. These also some of the legendary Connors' earliest available recordings showing the development of iconoclast guitar style and vocal moan.
Crotty was a New Haven lifer and linchpin of the region's blues scene yet, he never achieved much recognition outside local bars and house parties — until now. The album features never before heard recordings, unseen photos, liner notes by Connors and Crotty's brother plus a bonus CD: the first-time reissue of Crotty's ultra rare sole LP Robert Crotty Blues and Prove It! 7-inch -- both released on Connors' private St. Joan imprint in the late 1980s.
LP limited to 500 copies worldwide, includes a full-color inner sleeve and download coupon.