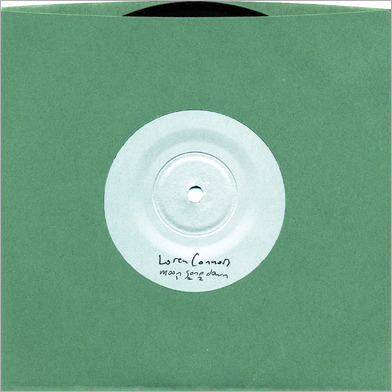 Moon Gone Down
FV33 7-inch
Released November 4, 2003
Tracks:
1.

Moon Gone Down, part 1

2.

Moon Gone Down, part 2
Not since the Spring of 1995 when the one-sided "Adonis" 7" (Father Yod/Black Label) was released has New York City guitarist Loren Connors so laid total harrowing devastation and emotion to vinyl. Descriptions, images and ideas do not qualify the two part "Moon Gone Down." Combining the near minimalist path of Departing of a Dream Vol. II and the clean guitar blues of his 1990 CD Rooms (S. Joan), Loren paints a vast portrait of the still night riding to its end. Not standing alone here, in between Loren's lone, distantly spaced guitar notes falls clinking metal, bass guitar and the distant moan of hounds.
Packaged in a green 45 DJ sleeve, limited to 400 copies and hand numbered.
Available on Night Through: Singles & Collected Works 1976-2004.