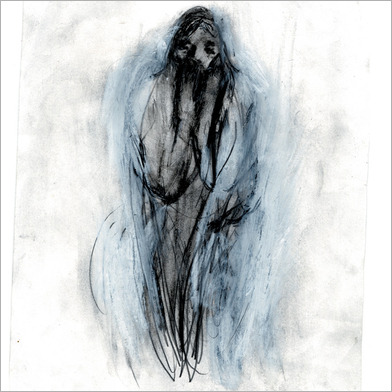 The Curse of Midnight Mary
FV64 LP/CD/FLAC/MP3
Released February 17, 2009
LP

CD

$12.00

FLAC Download

$10.00

MP3 Download

$9.00
In 1981 guitarist Loren Connors took his tape recorder to the graveyard where the legendary Midnight Mary's grave lies in New Haven, Connecticut. The curse is: Anyone who gets caught in her graveyard past midnight will die the next day. But Connors, like a young fool, taped in that place, making this album.
Lost and forgotten, a cassette of this music -- made at Evergreen Cemetery -- was found by chance in 2008. Recorded between Connors' eight volume Unaccompanied Acoustic Guitar Improvisations LP series and the folk albums he would make with Kath Bloom, these nine pieces meld those distinct, haunting styles. Connors, singing in a trance like moan, reforms the Mississippi Delta blues on acoustic guitar with flashes of melodic hooks and a percussive guitar style that erupts into boogie-woogie riffs and other world spirituals.
It's an album for followers of Connors' spine tingling solo albums and his collaborations with Suzanne Langille or Jandek. Devotees of early 20th Century blues artists such as Blind Willie Johnson or Charley Patton will be equally enthralled. A rare and essential peak into the still mysterious early years of this American guitar master.
The LP version is a recreation of Connors' Daggett-style releases, featuring pasted on cover art and back liner notes with handstamped labels. Unlike the CD version, the LP is in a stark black sleeve with a reworked black and white cover drawing; limited and hand numbered to 515 copies.