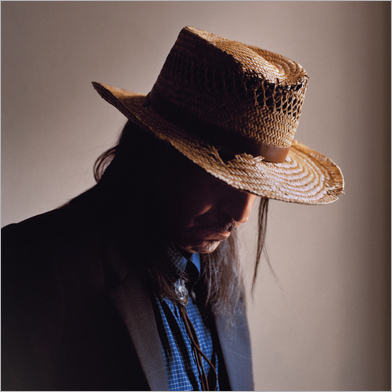 Domain of the Wind
FV108 10" Mini-Album
Released May 7, 2021
Tracks:
1.

Domain Of The Wind, Part 1

(11:20)

2.

Domain Of The Wind, Part 2

(10:32)
Domain Of The Wind is a 22-minute solo electric guitar suite from Loren Connors. At times thunderous, Connors' strikes of hand shatter melodies as single notes and chords come whipping by. The mastery use of simple effects further transfigures Connors' ever changing blues structure into a harrowing transmission of smeared, reverberant tones.
This is not Connors' past space music, nor his expedition into nothingness -- but something rather heavy. The music here, like Mark Mahaney's portrait of Connors adorning the cover, is deeply human and a reflection of life and the unknown future. Edition of 300 copies on black 10-inch vinyl -- only available directly from Family Vineyard.