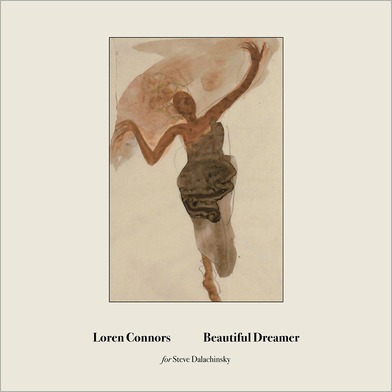 Beautiful Dreamer
FV111 10" Mini-Album
Released June 5, 2020
Tracks:
1.

Beautiful Dreamer, Part One

(12:36)

2.

Beautiful Dreamer, Part Two

(11:12)
Beautiful Dreamer is a two-part suite dedicated to Steve Dalachinsky -- an original among New Yorkers and everyone else; an indefatigable supporter of the avant garde; an ingenious poet; and a close friend to Loren Connors. Connors recorded these two solo guitar pieces shortly before Dalachinsky's passing in September 2019. Afterward, Connors returned to the music, and for the first time, used post-production to transform his real-time improvisations into an ethereal soundwork. It is unmistakably Connors --  a rich, ghostly tone birthed from the blues --  yet a new direction where slowness reveals a spectrum of shifting notes like a small choir, from rumbling baritones to vibrating sopranos. Beautiful Dreamer equally honors the dreams of Dalachinsky and captures the suspension of the Auguste Rodin dancer on the cover.