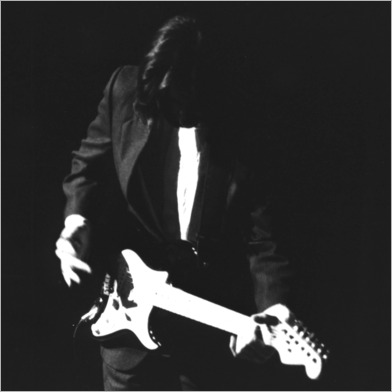 The Departing of a Dream
FV11 CD
Released March 5, 2002
Tracks:
9.

For NY 9/11/01: the Silence

(2:32)

10.

For NY 9/11/01: and Sorrow

(2:40)
For the remastered LP and digitsal reissue of this album click here.
The Departing of a Dream is Loren Connors' first album of 2002 and the debut of his minus-MazzaCane handle. This album finds Loren exploring distant voices of slowly churned darkened hues -- each collapsing onto themselves and his signature ghost melodies. The first nine pieces are a tribute to Miles Davis's epic "He Loved Him Madly." The album closes with For "NY 9/11/01" -- a two part suite that finds Loren, for the first time in over a decade, playing acoustic guitar.
"Loren's latest is a sublime tribute to Miles' 'He Loved Him Madly' - one of the saddest and most mesmerizing of all Miles' vast catalogue and a tribute to the then recently departed jazz god, Duke Ellington. Loren plays all of the instruments here including electric bass and subtle percussion and even approximates the sound of Miles' haunting trumpet tone, like a ghost drifting by. Also included is the short but devastating 'For NY 9/11', recorded that fateful day and only [until now] available as limited-edition CD-R." -- Bruce Lee Ganter, Downtown Music Gallery, NYC