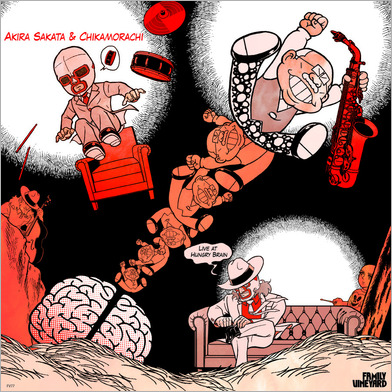 Live at Hungry Brain
FV77 LP/MP3/FLAC
Released November 20, 2011
LP

$15.00

MP3 Download

$6.99

FLAC Download

$7.99
Tracks:
2.

Miwataseba (look around look?)

(14:07)

3.

Wild Chickens in the Lake M.

(18:15)
In 2009 Family Vineyard released the first U.S. album by Japanese saxophone legend Akira Sakata in more than 20 years. That critically heralded release, Friendly Pants, was with Sakata's long running rhythm crew Chikamorachi -- drummer Chris Corsano (Paul Flaherty Duo, Bjork, Jandek, etc.) and acoustic bassist Darin Gray (On Fillmore, Grand Ulena, Brise-Glace, etc.). This LP is their follow-up. Recorded by David Zuchowski at The Hungry Brain in Chicago, Nov. 8, 2009 during the 4th annual Umbrella Music Festival.
Live at Hungry Brain is an outrageous document by this brawling avant garde trio. Sakata, on alto/clarinet/ vocals, relentlessly pushes Corsano/Gray into the blackout zone where the body drops out and the spirit takes over. On each piece Sakata seemingly levitates higher into a cosmic zone while blasting out gorgeous melodic shapes -- even when he sings. Those who have followed Corsano and Gray's progression through the American rock, noise & free jazz underground will hear this LP as a pinnacle of their talent.
It's an exhilarating, deeply textured and exhausting listen only matched by the outlandish, yet spot-on, cover art by famed Japan illustrator More Rock All Art. Edition of 700 LPs come with MP3 download code.