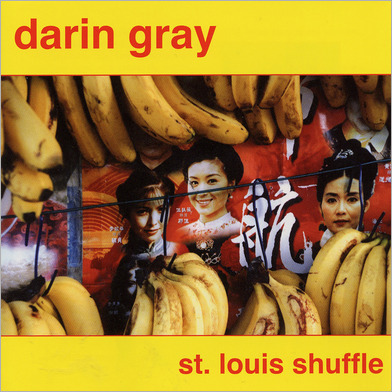 St. Louis Shuffle
FV17 CD/MP3/FLAC
Released September 3, 2002
CD

$9.00

MP3 Download

$7.99

FLAC Download

$8.99
Tracks:
1.

Get Rid of this St. Louis!

(3:08)

7.

Where Are You Number Seven?

(2:55)

8.

Eugene B. Redmond

(1:15)

9.

St. Louis Slide

(1:24)

11.

Happy Birthday Bug

(1:14)

13.

Alexander Salamander

(1:22)

14.

St. Louis Stop

(2:09)

15.

Bessie Lowenhaupt

(3:08)

16.

St. Louis Boogaloo

(3:04)

17.

Shirley Leflore

(1:06)

18.

William S. Burroughs

(1:17)

19.

The St. Louis Shuffle is Driving Me Bananas!

(1:57)
Debut solo album from bassist Darin Gray, associate, sideman and partner to Dazzling Killmen, Brise Glace, You Fantastic, Jim O'Rourke, Loren MazzaCane Connors, and Cheer Accident (to name a few), and his current groups Grand Ulena and On Fillmore. The debut is 19 complex and short improvisational vignettes. The music on St. Louis Shuffle is informed more so by the extended technique composition of Helmut Lachenmann, the microscopic music of Francois Bayle, the films of Andrei Tarkovsky and Takeshi Kitano, and the cut-up trilogy of William Burroughs, than by free improvisation. Dealing more with huge dynamics, timbre and stillness than melodic or motivic improvisation and using a vocabulary of rumbling bass/ discomforting silences/ crackles/ hums/ scrapes/ clicks/ pops/ and switches/, Darin has made St. Louis Shuffle an album that is as beautiful as it is disturbing.
"Gray plays everything, everything, about his bass. The strings, the channel switches, the input jacks, the amp, the power switch, the silence of his instrument at rest all contribute to an expansive vocabulary of sound that Gray exploits and manipulates in puzzling, galvanizing ways." -- Paul Friswold, The Riverfront Times