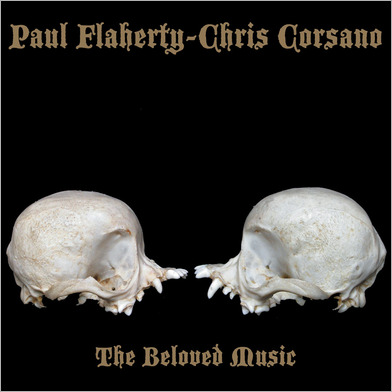 The Beloved Music
FV39 CD/FLAC/MP3
Released March 7, 2006
CD

$11.00

FLAC Download

$7.00

MP3 Download

$7.00
Tracks:
1.

The Great Pine Tar Scandal

(11:25)

2.

A Lean and Tortured Heart

(18:17)

3.

What Do You Mean This Is a Dry County?

(13:14)
The Beloved Music is the most thoroughly realized blueprint for a post-hardcore take on improvised jazz to date from the duo of legendarily long-serving New England saxophonist Paul Flaherty and young firebrand drummer Chris Corsano. Forsaking the call and response modes of countless improvising ensembles, the duo deal more in a simultaneity of sound, an elemental non-stop gush of ideas, rhythms and epiglottal forms that at points feels like a small-group response to the orchestral conceptions of the Peter Brotzmann and John Coltrane big-bands as much as epochal duo deals like the Rashied Ali/Frank Lowe and Muhammad Ali/Frank Wright sides. Between studio collaborations and tours with Wolf Eyes, Nels Cline, Six Organs of Admittance, and Cold Bleak Heat (their quartet with Greg Kelley and No Neck Blues Band's Matt Heyner), Flaherty and Corsano have coalesced and elated serious jazzbos alongside noise fans and freak-folk followers. Liner notes by David Keenan (Volcanic Tongue/The Wire).
"Buoyed by flowing swells of tom skin, The Beloved Music is an aural analog to Clyfford Still's caked oils or Richard Serra's manhandled lead. Flaherty and Corsano make music that is here, and they don't give a shit if you're around to love it or not." -- Clifford Allen, Bagatellen
"'The Great Pine Tar Scandal' winks knowingly at baseball fans and wastes little breath or muscle in reaching teeth-rattling speed. Mid-piece, Corsano's barreling sticks cease and it's just Flaherty splattering the ceiling with a florid Rorschach of scalding breath and spittle. Abruptly the two turn tribal: a searing melodic line intersects with a clattering tide of malleted toms and crashing cymbals to preface a cathartic close." -- Derek Taylor, Dusted