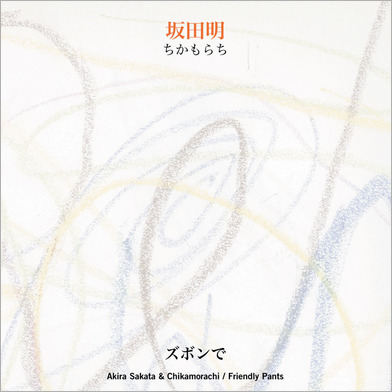 Friendly Pants
FV66 CD/FLAC/MP3
Released September 22, 2009
CD

$12.00

FLAC Download

$10.00

MP3 Download

$9.00
Tracks:
1.

Friendly Pants

(11:30)

3.

In Case, Let's Go to Galaxy

(8:38)

4.

That Day of Rain

(9:13)

5.

With Saigyo Path

(5:21)
Friendly Pants is the first American release by legendary Japanese saxophonist Akira Sakata in more than 20 years. It pairs the 65-year-old traveler alongside Chikamorachi, the bombast rhythm section of drummer Chris Corsano (Paul Flaherty Duo, Bjork, Jandek) and acoustic bassist Darin Gray (On Fillmore, Grand Ulena, Brise-Glace).
Since 2005 Sakata has been aligned with Corsano and Gray -- a duo equally informed by underground American rock, noise & free jazz -- and already issued two other smoked and blown out albums with them in Japan. On each of those they were joined by Jim O'Rourke, who remains in the producer's chair for this session.
Sakata deliverers ferocious / highly lyrical approaches to the post-bop field and with Chikamorachi's recalls late-period John Coltrane or Pharoah Sanders during the early 1970s at times. While the three smear and tear at the edges, Sakata's massive tone and melodic sense reins in the chaos to create beauty and awe.
Originally issued on O'Rourke's Japanese imprint Shakaijin Records, Friendly Pants is now reissued for the rest of the world to dig.
"Sakata pushed from melodic warmth to upper register cries in long natural arcs, driven by an unstoppable momentum and clear logic." (4 stars) -- Peter, Margasak, Downbeat
"Sakata has rarely played with such simplicity and such beauty. His characteristic sound, difficult to convey in words, has a softly buzzing, almost woody quality that fragments the more intense tones into momentary harmonics." -- Brian Morton, The Wire
"Sakata can still play the hell out of the alto sax and he tears through registers with all of the beautiful force of a Noah Howard or Marion Brown. Corsano is, of course, explosive throughout, playing at breakneck speed through Sakata's wild soloing while Gray wraps his strings all the way around the kit. Excellent." -- David Keenan, Volcanic Tongue