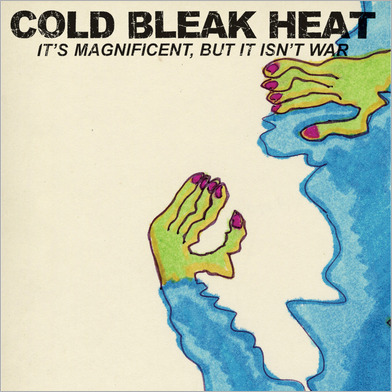 It's Magnificent, but It Isn't War
FV35 CD/MP3/FLAC
Released March 5, 2005
CD

$11.00

MP3 Download

$7.00

FLAC Download
Tracks:
1.

Never Give 'em What They Want

(7:48)

2.

The Blue Dabs of Vericose Veins

(5:13)

3.

Bloodshot Blink (Vanquished Teeth)

(12:50)

4.

Raising the Dead (Freezer Fight)

(10:49)

5.

Love Conquers All Motherfucker

(15:54)

6.

You Only Live for Infinity

(9:17)

7.

Is That All You Got?

(3:38)
The debut from a subterranean assembly of today's most active: Connecticut's prevailing operator of the alto/ tenor saxophones, Paul Flaherty; Chris Corsano, definitely today's leading light in pure spectrum propulsion; sound sculpting trumpeter Greg Kelley (nmperign), who opens into full-force gales during this session; and Earth-boom grounding acoustic bassist Matt Heyner (No Neck Blues Band), whose tone/shape-shifting agility wrangles all these wild horses into one field. These four actioners embody a cosmic shuffle of unresolved parallel. Cold Bleak Heat is a wake up call to the evolving life of the avant garde. And on the inside Dredd Foole lays a verse-based telling of the CBH story as only he can.
"Certainly, squawks, yells, and whoops of vengeance abound on this disc, and volume and intensity levels often reach alarming proportions. Yet for each lightning bolt, there are moments of incalculable serenity and reflection where the storm is nowhere in sight. This contrast, the ability to create an ever-changing and rhetorically convincing moment form while rendering a continuously satisfying listening experience from start to finish, should be the disc's proudest boast." -- Marc Medwin, One Final Note