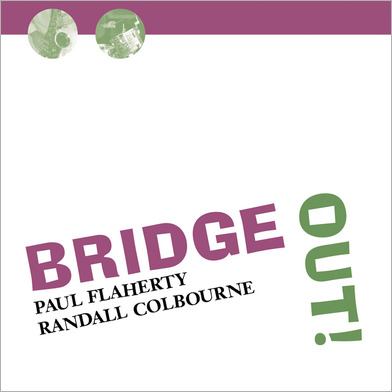 Bridge Out!
FV55 CD/FLAC/MP3
Released June 20, 2008
CD

$11.00

FLAC Download

$7.00

MP3 Download

$7.00
Tracks:
1.

Scorched Onslaught

(8:19)

2.

Marauding Toxic Fungus

(17:29)

6.

Thirsty Thorns

(11:54)

7.

More Lasting than Bronze

(5:26)

8.

Spiders in Her Hair

(5:03)
Don't call it a comeback. Bridge Out!, the first release in almost a decade by the duo of saxophonist Paul Flaherty and percussionist Randall Colbourne, is better thought of as a renewal, a reawakening of a collaboration which has lain dormant for too long. Joining forces in the late 1980s, these two New Englanders released over a dozen uncompromising and outlaw styled albums of avant garde jazz on their own and other labels that have since vanished into legend. Since then, Flaherty has expanded across the world stage in improv, out-rock and noise (with Chris Corsano, Thurston Moore, Sunburned Hand of the Man, etc.) while Colbourne pursued private study. Together again, they've created eight instant compositions of coiling sax lines and polyrhythmic patterns that commemorates the past celebrates the new. Includes liner notes by Nick Cain.
"Out-in-out-in-out-out-out... these guys handle the perplexities of universal consciousness like it was so much wrapped fish." -- Byron Coley
"By relying on their knowledge of the other than on energy or extended techniques, Flaherty and Colbourne create eight improvisations that exude a lack of pretension as powerful as it is refreshing." -- Matthew Wuethrich, The Wire
"Flaherty is as thrillingly exploratory as ever, while Colbourne, even while clattering away like a pissed android in a scrapyard, displays an irrepressible deftness that catapults Bridge Out! high above the pack." -- Matt Evans, Rock-A-Rolla