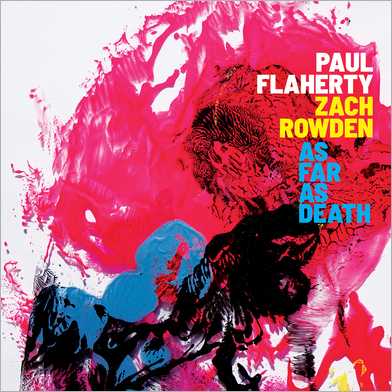 As Far As Death
FV115 LP/FLAC/MP3
Released September 9, 2022
LP

$18.00

FLAC Download

$7.00

MP3 Download

$7.00
Tracks:
1.

The Question Drops

(3:44)

2.

Under The Tough Acid

(3:37)

5.

Thrown Shadows

(20:05)
As Far As Death is the cross-generational debut of fire music evangelist and saxophonist Paul Flaherty with double bassist and composer Zach Rowden. The Connecticut natives forge an album of dynamic free jazz interplay that also draws on imporous textures of contemporary music – an ecstatic reflection.
After a half century of blowing the alto and tenor saxes, Flaherty's playing continues to molt and electrify. Whether solo, or with collaborators (Joe McPhee, Chris Corsano, Bill Nace, Daniel Carter, etc.), his blues-based, lyrical melodies anchor lung-bursting gallops.
Rowden – whether as Tongue Depressor (a string duo with Henry Birdsey), in performance with cellist Leila Bordreuil, or his own musique concrète constructions  – balances harshness and elegiac drones. His past releases resemble resolute exploration into acoustics and noise.
Together, Flaherty's monstrous howl is perfectly matched by Rowden's subterranean pitched drone and glacial pace. Each offers weeping lurches of tune, gasps of balladry and microtonal fields of interplay on five pieces. The side-long "Thrown Shadows" is an epic passage of avant jazz vs minimalism, as Rowden's low-register bowing offers a blackened landscape for Flaherty's most mournful notes.
Recorded by Henry Birdsey at Crunch House in West Haven, Connecticut and lacquers cut by Carl Saff. Cover and back artwork by Chris Corsano. Edition of 300 LPs.