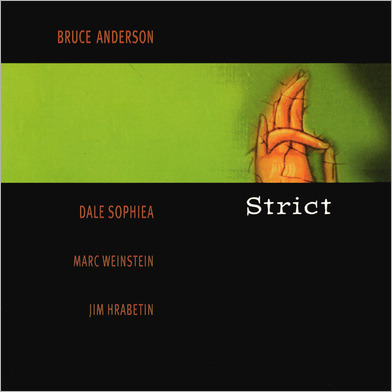 Strict
FV01 CD/MP3/FLAC
Released November 20, 1999
CD

$9.00

MP3 Download

$7.99

FLAC Download

$8.99
Tracks:
1.

Intro: The Call + Initiation

(4:35)

3.

Interlude #1: Deprivation

(2:10)

5.

Interlude #2: Revilement & Persecution / Hugo

(9:11)

6.

Interlude #3: Exaltation / Interlude #4: Austerity

(2:35)

7.

Father Damien: Part I (Pride) / Part II (Realization & Rage) / Part III (Transcedence)

(15:43)

8.

Interlude #5: Redemption

(0:13)

9.

Jeanne: A Day At The Beach

(12:12)
Strict signals the end of the silent years from MX-80/O-Type members Bruce Anderson (guitar) and Dale Sophiea (sampler) with help from usual cohorts Dave Mahoney (drums), Jim Hrabetin (guitar) and Marc Weinstein (drums). After 25 years of making music together the next phase has been entered: They call this New Edge, and Strict is the first of five recordings in the New Edge series. Tearing the seams of music tradition and history, Sophiea splices the tattered ends against Anderson's warped tone and anti-melodic flair.
"Appropriated contemporary classical music samples from Morton Feldman, Claudio Monteverdi, Hugo Distler, Jeanne Desslieux, and Frances Poulenc acts as beds and transitions in the narrative flow of this modern oratorio for rock instrumentation. This is out on the edge of both what is expected and what is allowed. Anderson's darkly meditative and thoughtfully screaming guitar has never sounded more at home. These veterans of MX-80 have evolved into something nobody's found a name for yet." -- Henry Kaiser