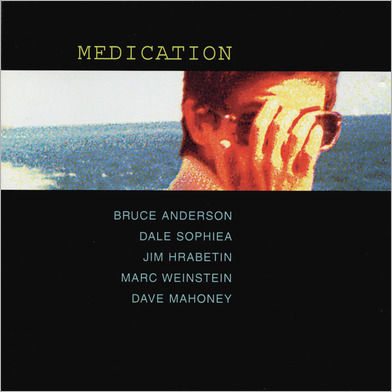 Medication
FV08 CD/MP3/FLAC
Released August 7, 2001
CD

$9.00

MP3 Download

$7.99

FLAC Download

$8.99
Tracks:
2.

Ringing in the Ears

(4:44)

5.

Exaggerated Feeling of Well-Being

(3:19)

6.

Decreased Production of Tears

(5:04)

7.

Sensitivity to LIght

(2:46)

10.

Memory Impairment

(2:01)
The third release in the five part The New Edge series by O-Type/MX-80 members Bruce Anderson (guitar), Dale Sophiea (sampler, bass), guitarist Jim Hrabetin and drummers Dave Mahoney and Marc Weinstein. This is Deep Listening music. Layers of sonic sediment are built up through these songs, dense foundations which offer various listening situations depending on which grain you want to concentrate on. Flip your eyes inside out and see what is inside...
"Each tune describes a different condition from drug ingestion, and each provides the music we all wish accompanied our own experiences. 'Vivid Dreams' speaks in spooky tongues, tossing and turning through a sleepless night disrupted by ambient drones, phasing feedback, and creepy voice samples; 'Exaggerated Feeling of Well-Being' surfaces like Amon Duul I dousing their communal tribal rhythms with Merlot and barbiturates; 'Melancholy' simmers in the doldrums as depth tones, subtle cymbal caresses and plentiful delay effects ebb and flow in morose waves; 'Decreased Production of Tears' loops bass through a quilt of samples as a voice intermittently inquires 'have you taken your Medication?' Oh indeed, my synaptic highway is now blissfully rerouted!" -- Fake Jazz