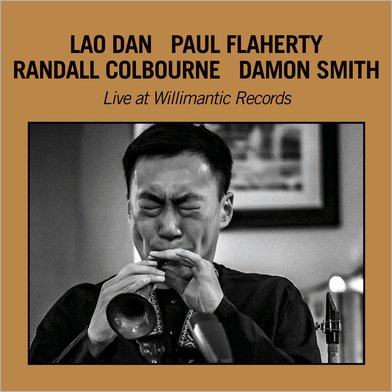 Live At Willimantic Records
Lao Dan with Paul Flaherty, Randall Colbourne, Damon Smith
FV109 CD
Expected release date: July 19, 2019
Tracks:
4.

Relentless Still

(10:48)
Debut American release from Lao Dan, China's emerging free player on bamboo flute, suona and alto saxophone. For his first U.S. performance, Dan is joined by torchbearers of American's avant underground: saxophonist Paul Flaherty, percussionist Randall Colbourne and bassist Damon Smith.
"Via alto, Lao Dan unleashes one of those shrieks that have typified what Ingrid Monson calls freedom sounds for more than fifty years, though the reedsman from China is just over the age of 30. The other musicians respond with the rapid precision of veterans, Damon Smith and Randall Colbourne in rhythmic synchronicity, Paul Flaherty with respectful and attentive silence, allowing the young saxophonist another sustained high-register Whitmanian yawp, turning a record store gig into a point of transcultural definition." -- from Marc Medwin's liner notes. 
Just like the title says: recorded live at Willimantic Records in Willimantic, Connecticut.