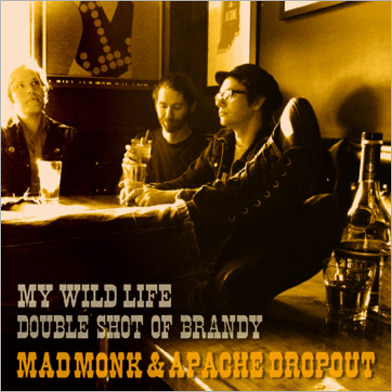 My Wild Life
FV86 7-inch/MP3/FLAC
Released October 16, 2012
7-inch

$4.50

MP3 Download

$2.99

FLAC Download

$3.99
Tracks:
2.

Double Shot of Brandy

(3:04)

3.

I'm Not a Young Man Anymore

(6:06)
Mad Monk is John Terrill, original member of the late '70s new/no wave Dancing Cigarettes and veteran of many stripped down Hoosier groups since. As an ace singer/songwriter and eternal student of rock 'n' roll's high/gulcher culture, he's kept a criminally low profile snug in the Midwest despite drawing attention from songwriter Bill Fay and other major/minor music heads.
This platter lines up the Monk's two newest biographical orchestrations -- and a Velvet Underground bootleg favorite -- with the freakbeat backup of Apache Dropout -- fresh off their Trouble In Mind album Bubblegum Graveyard. In blasted proto-style the Monk takes on his past ("My Wild Life"), drink of choice ("Double Shot of Brandy") and a tune that bridges Apache Dropout's boogie and avant-garde notions ("I'm Not a Young Man Anymore"). Recorded in mono by John Dawson and Lord Fyre at Magnetic South on analogue equipment. Comes in full color sleeve with download code in edition of 500 copies.
"The two originals here are SO Midwestern, with Terrill's dusty, raspy demeanor and the boys' sweet vocal harmonies reminisce about the years past, and the comforts of booze. Won't blow your hair back, but the flip might, a cover of the rediscovered-by-bootleg Velvet Underground song 'I'm Not a Young Man Anymore.' Here's where things get a little more shook, right down to a replication of Cale's viola grinding out in the lock groove. Clusterbombs of nasty feedback go off in the back, and they just nail it really hard. Good stuff from a reliable group." -- Doug Mosurock, Still Single