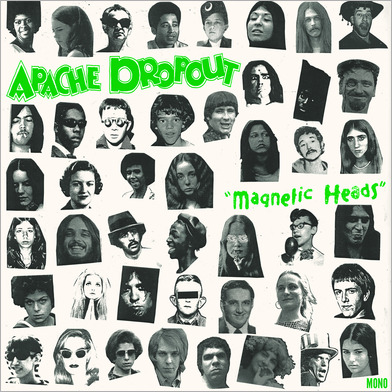 Magnetic Heads
FV85 LP/MP3/FLAC
Released February 5, 2013
LP

$14.00

MP3 Download

$8.99

FLAC Download

$9.99
Tracks:
1.

Don't Trust Banks

(2:20)

3.

Memphis, Tennesse

(3:05)

6.

Put a Moth on It

(2:15)

7.

Mary Don't You Weep

(2:04)

10.

Exaltation of the Guru in the Natural Harmonic Series

(1:14)
This is not a "new" Apache Dropout platter, but an archival sidestep into the Fugs n' fried view of their early beginnings. Before the Indiana trio cemented their unique red-level, distorto proto-punk they focused on a more obliterated bent on traditional forms. Fiddle, distortion and echo drive most of these songs, as sung by Sonny Blood, that tout distrust of banks, ballot uncertainties and magnetic heads. It's a bleaker vision than the recent Bubblegum Graveyard LP on Trouble in Mind, even with the blownout take on Chuck Berry's "Memphis, Tennessee" and hints of Holy Modal Rounders to Kim Fowley doused throughout these sides.
Culled from the group's first two Magnetic South cassettes -- Cha Cha Cha in 2008 and Lysergic Caveman Choogle issued a year later -- the 10 songs are equally formed by their recording in a grain silo and the group's Magnetic South studio as much as the songwriting. Edition of 548 copies and comes with download code.