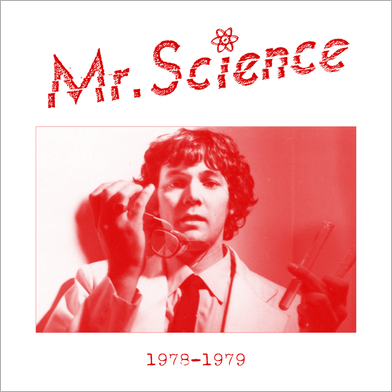 1978-1979 EP
Mr. Science
FV74 7-inch EP/MP3
Released September 16, 2016
Tracks:
1.

Hey Mr. Science

(2:23)

2.

Half The World Must Die

(1:34)

3.

The Number Song

(1:21)
Mr. Science was a linchpin of the Indiana punk scene in the late 1970s and early '80s. He was the DIY engineer at Zounds Studios in West Lafayette -- where he recorded some of the state's classic punk/art records: Amoebas In Chaos' On To Mayday LP,  The Jetsons' "Suicidal Tendencies" 7-inch, the Dancing Cigarettes EP, the Industrials' Hoosier Hysteria, and more.
As a member of Dow Jones and the Industrials, Science added a mass of bleeping, lurching technology to the roaring punk anthems and penned the crazed "Damage" and "Latent Psychosis" tunes.
In 1978, Science -- also known as Brad Garton -- began writing twisted new/no wave songs on keyboards, Moog, Orchestron, organ, synthesizer and other newfangled instruments of the day. He recorded them on a TEAC A-2340 reel-to-reel.
This 1978-79 EP compiles five songs that survived from that era -- four unreleased until now and available for the first time since their recording nearly 40 years ago.
Available as a 7" EP limited to 300 copies and is only guaranteed to you with the purchase of Dow Jones and the Industrials' Can't Stand the Midwest 1979-1981 2xLP or CD.  (A very limited number of 7"s will be available to U.S. record stores.)
Transferred from the original tapes by Science and remastered by Taylor Deupree at 12k Mastering in May 2016. Designed by Xerox The Kidd. 
1st pressing 300 numbered copies with red cover, available via mailorder only - sold out
2nd pressing 70 numbered copies with red cover, available to select retail stores - sold out
3rd pressing 154 numbered copies with royal blue cover, available via mailorder and select retail stores