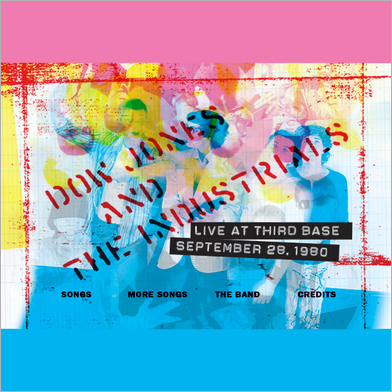 Live At Third Base: September 28, 1980
FV73 DVD
Released September 16, 2016
Also available as part of a bundle with Can't Stand the Midwest 1979-1981 (FV72).
Dow Jones and the Industrials were a killer live band. Want proof? Here it is: Live At Third Base is the complete 19-song, 70-minute performance by the band on September 28, 1980 -- less than two months before the original line-up would implode.
Shot by Randy Schwartz on a RCA BW001 video camera (with a 15mm lens and a plastic view finder) -- this gives you the point of view of pogoing along with members of the Zero Boys and dozens of other rabid Indiana punks as the Industrials rip it up. Clips of this performance have made it to YouTube over the years -- but this is the definitive version. DVD is sourced from the highest-quality copy of the lost original master and audio was restored and remastered by Zero Boys' Paul Mahern.
DVD specs: NTSC / Black and white; All-region; 70 minutes; packaged in a white paper sleeve.