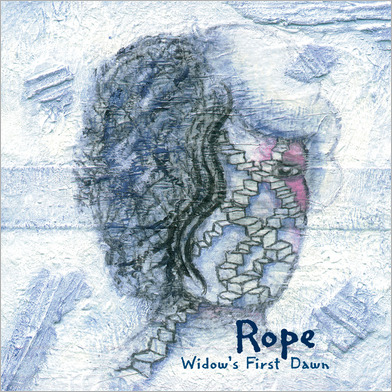 Widow's First Dawn
FV25 CD/MP3/FLAC
Released October 22, 2003
CD

$9.00

MP3 Download

$7.99

FLAC Download
Tracks:
1.

Love Without the Illusion of Permanence

(6:48)

2.

Widow's First Dusk

(8:38)

3.

Routine Mood Swings

(8:15)

4.

Confusing Heritage

(14:14)

5.

Wordless Conversation

(5:16)
Rope -- Robert Iwanik (bass/vocals), Przemyslaw Chris Drazek (guitar, 12-string acoustic guitar) and Illinois native Michael J. Kendrick (trap set, household percussion) -- have forced a thousand years of oppression, seething and lost chance into a cascading and ultra-dynamic group sound. Widow's First Dawn is an epic six-part song-cycle about a life buried by its surrounding loss and failure, Rope transcends modern influence and looks back to the staggering explorations of Polish composer Komeda and other Romantic greats. Iwanik's whispered, near vocal hissing confessions shape the music's cinematic swell equally as near-smeared scat bellows of guest vocalist and Polish jazz legend Grazyna Auguscik. Drazek's crystallized guitar sheen pushes Rope's sound beyond musical similarities. Features Grand Ulena's Darin Gray on piano and Unstable Ensemble's Marty Belcher on soprano saxophone.
"Widow's First Dawn is wonderfully faithful to their doomsday vision. It's all there -- the impossible rhythms, the screaming guitar, exclamatory homophony alternating with hairy counterpoint, the harsh, breathy lyrics, the bizarro harmonic approach. They add some additional timbres on disc, though, giving occasional space to soprano Grazyna Auguscik, soprano saxophonist Marty Belcher, and (unfittingly Monkish) pianist Darin Gray. (Auguscik's otherworldly, Berberianesque vocals are nearly as unsettling as Iwanik's threatening exhalations.)" -- Walter Horn, Dusted
Released October 2003