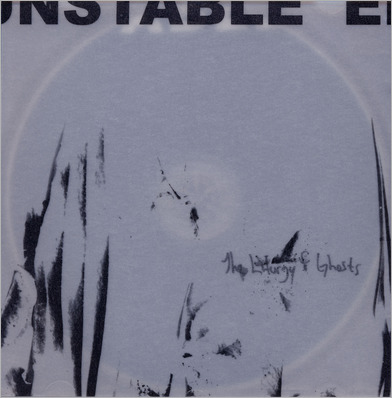 The Liturgy of Ghosts
FV16 CD/MP3/FLAC
Released September 3, 2002
CD

$9.00

MP3 Download

$7.99

FLAC Download

$8.99
Tracks:
1.

Beneath The Rafters

(6:34)

2.

Needles, Hooks, Lit Aloft

(4:43)

3.

Torque and Tungsten

(2:36)

4.

In the Fullness of Time

(7:20)

5.

Flame Leaps Out

(5:29)

8.

Thirty Spokes Share One Hub

(7:47)

9.

To Speak, to Listen

(9:04)
Second album from this roving improvisational group stationed in Raleigh, NC and Bloomington, IN. The Liturgy of Ghosts finds the Ensemble mid-stride into their three-year life span by distinctively sculpting a towering tectonic merging of massive planes and melodic spikes that are absorbed into the molting. Paying minute attention to the behavior of sound, and the haze of natural distortion, magnified white blots and the clicks and ticks of electronics, the UE blurs any lines between the notions of Jazz, Improvisation and New Music. Recorded live during their Summer 2001 tour. Marty Belcher, soprano sax; Jason Bivins, electric guitar; Joe Donnelly, baritone sax; Matt Griffin, percussion; and Eric Weddle, no-input mixing board; plus guests Darin Gray, upright bass; Richard Patterson, flute/electronics; and Paul Bennett, soprano sax.
"This is jazz that deforms itself into chamber music, that hops around and babbles over guitar strings and electronics. It gives way every so often to dry, lunar be-bop (the splendid central track, 'Flame Leaps Out'), it sometimes holds court in a kingdom that smacks of folk somewhere between Sketches of Spain and Jajouka (tracks like 'Mercy'), and it even succeeds in transforming itself into perfect compositions that we never could have foreseen (the final track 'To Speak, To Listen')." -- Stefano I. Bianchi, Blow Up