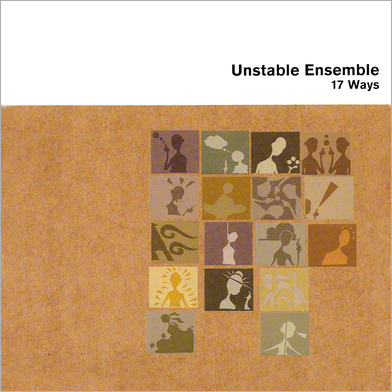 17 Ways
FV05 CD/MP3/FLAC
Released August 27, 2001
CD

$9.00

MP3 Download

$7.99

FLAC Download

$8.99
Tracks:
1.

The Rudyard: Introduction

(0:20)

2.

Gesture of No Gesture

(3:58)

3.

I Got 'Em for Ya

(4:44)

4.

The Rudyard: Expansion

(2:08)

6.

Take It Like A Champ

(8:05)

7.

The Rudyard: Elaboration

(1:36)

8.

Right Angles / Cascades

(5:44)

10.

The Rudyard: Conclusion

(2:19)

11.

Prime / Ra Grey Sky

(1:29)

15.

Part and Whole

(3:04)

16.

Blast Up 3rd Avenue

(1:27)
Debut from Unstable Ensemble. Hear where it all started. This is spacious, avant jazz in the realms of Spontaneous Music Ensemble that carries frictional shards sharp enough to shave your globe off yee shoulders and across the valley. Highly tempered and action packed with a sniff of underbelly, Parker, Bailey, and van Halen. The unstable, multi-state make up is: Jason Bivins (electric guitar), Marty Belcher (soprano saxophone), Joe Donnelly (baritone saxophone), Matt Griffin (drums) and Richard Patterson (flute, vocalization). A continuing force to be reckoned with.
"With its raw, sometimes cloudy sonics (which work to its advantage, actually), there's a feel at times akin to Albert Ayler's New York Eye and Ear Control. At other times the abstraction recalls the wonderful disorientation fond on Sun Ra's 1970 The Solar Myth Approach." -- Cadence
"Charles Mingus and Paul Klee fighting a bear." -- Ptolemaic Terrascope