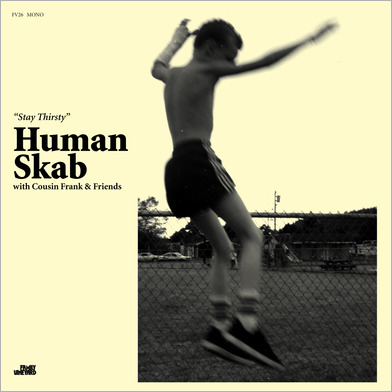 Stay Thirsty
FV26 LP
Released August 4, 2009
Tracks:
2.

Suckin' Out Brains/Eatin' Blood

16.

Suckin' Out a Brain/Givin' Bloody Noses
Human Skab was a 10-year old singer from Elma, Washington. Stay Thirsty is one of a half-dozen or so cassettes recorded by the soccer player during the mid-late 1980s and injected into the underground postal network of cassette traders, zine scribes, DJs, and freak seekers. In a way, this is Skab's response to He-Man, the smoldering cold war, living near the abandoned Satsop Nuclear Plant, and heavy metal (the title has gotta be response to Twisted Sister's classic Stay Hungry LP!).
Rumors maintain Human Skab opened for David Thomas at the Capitol Theatre in Olympia, Washington before focusing on baseball card collecting and growin out his mohawk.
As Bruce Pavitt wrote in the 1986 Sub Pop zine: the Skab zips around the living room shooting toy guns. He hits the family piano with his fists. He tries real hard to play guitar. He makes up songs about terrorism and radiation and throwing rocks at windows. Cool!
Now, 23 years later this is the first time any of the Skab's rare recordings have been reissued or even made available outside of dusty, personal collections. You can't find this stuff on blogs. Edition of 105.