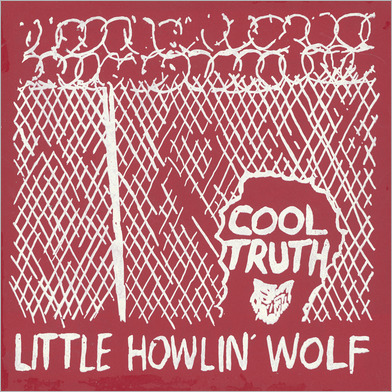 Cool Truth
FV84 LP/FLAC/MP3
Released August 7, 2015
LP

$16.00

FLAC Download

$10.99

MP3 Download

$9.99
Tracks:
4.

Ten Steps of a Broken Heart

(3:52)

5.

Shuk Schuck Shodi

(2:07)

8.

Hokomo Juju Man

(2:25)

10.

Tears Were Fallin' Down Her Face

(5:47)
Reissue of the 1985 LP by Chicago street musician, bluesman, actor, storyteller and truth seeker known as Little Howlin' Wolf. Wolf is also a true outsider, whose wrenching soulfulness and fire-brained intensity have been captured in a breadcrumb trail of confounding and intentionally obscure self-released records. 
In the late 1960s Wolf -- born James Pobiega in 1950 -- was already a saxophone wailing fixture at the legendary Chicago hangout, Maxwell Street Market. By the mid-1980s he released more than two dozen 45s. Those singles are sprawling journeys into Wolf's world vision, as told through his gravelly voice and an array of instruments in styles and influences not limited to: American Indian, Polish and gypsy folk musics, Voodoo, vocal chants, blues, calypso and avant jazz. Often, it's all filtered through overdubbed abstraction.
Wolf issued two LPs collecting some of those singles -- The Guardian (1982) and Cool Truth (1985) -- both now reissued by Family Vineyard.
Cool Truth is a damaged, hallucinatory journey that radiates from a Chicago blues core. Performing most, if not all, the instruments himself -- sax, guitar, harmonica, marimba, etc. -- Wolf speaks in tongues, hollers and serenades. The 12 songs recorded between 1979 and 1983 alternate between Sun Ra-style orchestration and primitive forms to more traditional blues takes.
This reissue features replicated LP jackets, with Wolf's original transcendent liner notes, and labels bearing the Solidarity Solidarnosc Records name; never before seen photos; new essay by ethnomusicologist/ Canary Records head Ian Nagoski; and download coupon. Timothy Stollenwerk remastered the audio as sourced from multiple copies of the records as the master tapes were destroyed in a fire.
A CD version was issued by HereSee in 2007.
"The sheer what-the-fuckness of it puts Wolf in the same distant orbit as another Chicagoan, painter Henry Darger,or Don Van Vliet himself." -- Bill Meyer, The Wire