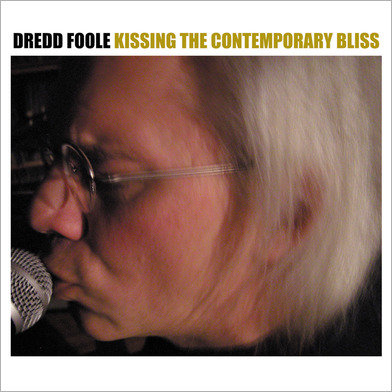 Kissing the Contemporary Bliss
FV56 2xCD/MP3/FLAC
Released July 22, 2008
2xCD

$16.00

MP3 Download

$10.00

FLAC Download

$11.00
Tracks:
1-1.

Dog Star Waltz

(10:14)

1-2.

Above Ground Friend

(7:01)

1-4.

Lay Lady Lay (Be)

(7:16)

1-5.

Walk Right In

(11:24)

1-7.

Once I Was Not

(3:04)

1-8.

Raga Moderne #1

(1:27)

2-1.

Light at the Ditch of a Spoonful

(8:48)

2-2.

Jungle Nigh High

(3:37)

2-3.

The Jug Is Glowin'

(4:53)

2-4.

Boom Boom (For Willie Alexander)

(7:55)

2-5.

Girl From the North Country

(6:37)

2-6.

Stones in My Passway

(6:05)

2-7.

Aquarian Wind

(3:28)

2-8.

Raga Moderne #2

(1:25)
For over 30 years troubadour wailer Dan Ireton, aka Dredd Foole, has called upon the spirit of 78 shellac blues n' psychedelic Stooges n' Velvets to fuel his guttural, pure soul ethos of the song. Whether solo or leading mass, Foole hints at the classic forms of Blood On The Tracks and the celestial fug of Sun Ra's third-eye vision to create an approach untraveled yet increasingly influential (see: Six Organs of Admittance, Sunburned Hand of the Man).
Produced in multi-dimensional spectrasound by Matt "MV" Valentine (Bummer Road, Tower Recordings), Kissing The Contemporary Bliss spans 50 miles of elbow room (it's a double CD) and kicks up the most outward bound and staggering approaches to Gus Cannon's "Walk Right In" and Robert Johnson's "Stones In My Passway" while offering ear-popping originals colored by Erika Elder's jug blowin' and Coot Moon's ecstatic, reverb dosed banjo. You'll hear nothing like this in 2008 or beyond. Packaged in a mini-LP-styled gatefold book with full color photos of The Foole in action.
This is the Foole's fourth solo album since 1994's In Quest of Tense and part of an American musical evolution that began with his debut 45 single leading The Din in 1982.
Kissing... was originally released in an extremely limited edition by Valentine's Child of Microtones imprint in 2005. This reissue contains superior remastered sound and radically reworked design and cover art.