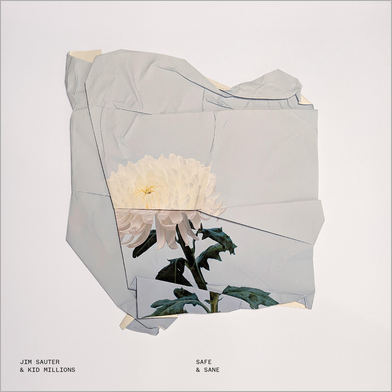 Safe And Sane
Jim Sauter & Kid Millions
FV105/AS078 LP/FLAC/MP3
Released May 3, 2019
LP

$16.00

FLAC Download

$7.00

MP3 Download

$7.00
Tracks:
1.

Chrysanthemum, Part 1

(20:32)

2.

Chrysanthemum, Part 2

(11:28)

3.

Falling Spider

(12:28)
Outrageous. Rabid. Explosive. #WTF? Whatever words you throw at Borbetomagus saxophonist Jim Sauter and Oneida / Man Forever drummer Kid Millions, they'll chomp 'em up and respond with a gargantuan roar to erase all notions of what a horn and skins can do.
The duo's prior albums were built of tightly, clustered bursts and barbed assaults. On Safe & Sane, Sauter and Millions eschew brevity for ultra-endurance. The opening "Chrysanthemum," clocks in at 32 minutes and continues on Side B before a final 12-minute avalanche that is "Falling Spider."
Sauter's blowhole is jacked straight into a battery of electronics and amplification. He summons the reedy, shifting drones of the hurdy-gurdy or Hendrix's scree, and spits forth monstrous overtones. Those sheets-of-sound Coltrane chased after -- it's here.
Millions doesn't even attempt to nail down the flow. He's egging it on with rapid rolls and polyrhythmic propulsion that smears the line of fire/energy music -- think classics like Black Beings -- and primitive punk fury.  At times, it's as if Millions is outrunning Sauter's tornado of multi-channel horns but he never gets sucked in. Rather, he pounds holes and slices cracks across the landscape for the reed streams to slip inside.
Safe & Sane is the first split release between Astral Spirits and Family Vineyard -- each previously issued Sauter/Millions albums: Bloom (2015) and Fountain (2014), respectively. The LP comes dressed in fab Dan Schechter cover art in an edition of 500 copies worldwide.