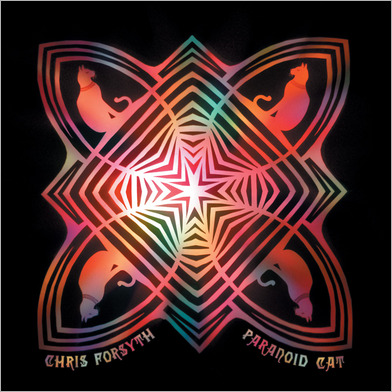 Paranoid Cat
FV80 LP/FLAC/MP3
Released March 29, 2011
LP

FLAC Download

$10.00

MP3 Download

$9.00
Tracks:
1.

Paranoid Cat (Pt 1-3)

(21:09)

2.

New Pharmacist Boogie (for Jack)

(5:48)

3.

Front Street Drone

(6:26)

4.

Anniversary Day

(8:23)
Paranoid Cat is Philadelphia guitarist Chris Forsyth's third solo album and first for Family Vineyard -- a sprawling, harmonically-charged side-long suite backed by a clutch of compositions merging raw and delicate American roots traditions. After more than a decade trotting the globe and recording with a mess of today's avant garde greats, plus co-leading the brazenly absurd Peeesseye, Forsyth has arranged a full-band to accompany his electric six-string vision of interlocking arpeggios and maximalist peaks. The kaleidoscopic arrangements of Paranoid Cat are a leap from the stripped down attack on Forsyth's hotly acclaimed 2009 Dreams -- since reissued by Family Vineyard -- with hints of John Fahey's America, Richard Lloyd's work with Television, John Lee Hooker, and Van Dyke Parks all being identifiable somewhere in the swirling mix.
Paranoid Cat is the result of Forsyth performing with a band over recent years and bringing together drummer Mike Pride, bassist Peter Kerlin, pianist Hans Chew (member of D. Charles Speer & Helix), pedal steel player Marc Orleans (Sunburned, D. Charles Speer, etc) Koen Holtkamp (of Mountains) on synths, trumpeter Nate Wooley and others into the studio.