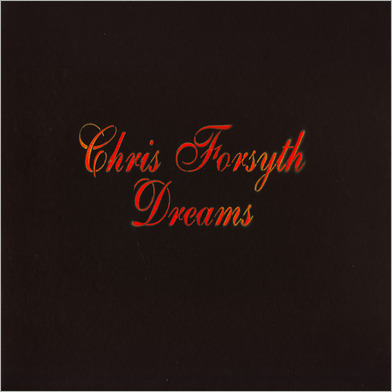 Dreams
FV81 LP/MP3/FLAC
Released December 6, 2011
LP

$14.00

MP3 Download

$8.99

FLAC Download

$9.99
Tracks:
3.

Long Warm Afternoon

(5:55)

4.

Dream Number One

(14:06)
Note: This LP is now avilable in a $20 bundle with Paranoid Cat only for the month of December 2014. Details here.
Dreams is a reissue of Chris Forsyth's second solo album. In 2009 Forsyth pressed up 100 LPs for a European tour and created quite an uproar of approval by the heads who managed to score a copy. Now available again, Dreams rightfully shows Forsyth at the creme of American guitarists who blend masterful skill of country/blues with sometimes violent aggression or mind-bending arrangements.
Dreams was recorded and mixed between 2007 and 2009 and catches Forsyth in the studio layering acoustic and electric guitars and organ with contributions from his guests, creating four pieces which are full of the raw power and intuitive delicacy that characterizes his live shows still. Dreams crosses free-wheeling minimalist rock balladry and anarcho- improv surrealism with a fearless approach to beauty in a deeply psychedelic landscape. It features contributions from his Peeesseye bandmates Jaime Fennelly (synth on one track) and Fritz Welch (drums and vocals on another) as well as the soaring trumpet work of Nate Wooley and organ, saxophone, and snare drum overdubs by another longtime collaborator of Forsyth's in Phantom Limb & Bison, Shawn Edward Hansen. This is Forsyth's second solo record, preceding Paranoid Cat, which was released by Family Vineyard earlier in 2011.
Edition of 700 LPs; comes with download code for MP3 version.