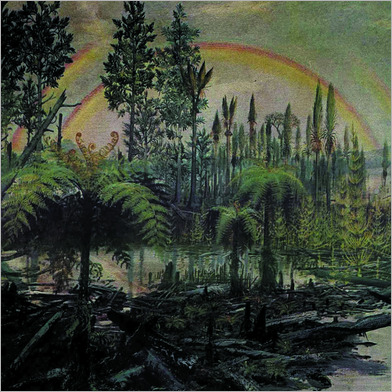 We Walk The Young Earth
FV21 CD/MP3/FLAC
Released April 22, 2003
CD

$9.00

MP3 Download

$7.99

FLAC Download

$8.99
Tracks:
1.

The Book Of Names

(10:46)

3.

All Children's Faces Looking Upwards

(11:18)

4.

The Oldest Living Things

(18:04)

5.

We Walk the Young Earth

(5:17)
The third full-length release from The Blithe Sons, the duo of Loren Chasse (Coelacanth, Thuja, Of) and Glenn Donaldson (Skygreen Leopards, The Birdtree, Thuja). Compiled from performances that took place under a creek bridge in San Gregorio and inside WWII-era bunkers on sea cliffs in the Marin Headlands, California. With acoustic guitar, harps, bells, harmonium, toy-amplifiers, gongs submerged in a creek, cymbals, battery-powered keyboards, vocals, banjo, birds, pipes, bell-blocks, drums, branches and the location itself as an instrument, these album weaves minimalist hymns with stark drones. The Blithe Sons conjure an imaginary wilderness through the sounds made within these mysterious locales, combining Chasse's leanings towards tones and percussive textures with Donaldson's folk-inflected melodies.
" ... an album of near religious devotion, a tome of sweetly psychedelicised sounds for those still learning." -- Jon Dale, Signal To Noise
"This both promises and delivers everything that is holy and sacred at the crossroads of acoustic instrumentation / distant outsider songcraft and droning / site-specific sound research. It would be neither clever nor accurate to lump The Blithe Sons in with sea-level dwellers from the "new weird americana" set (to me, their music has more in common with the distant, clanging in an empty water-passageway tunnel of David Jackman's long-running Organum project). Clearly this is a band of troglodytes, as these transcriptions were apparently made by dipping a single large-diaphragm condenser microphone into the uppermost chamber of their lair, hovering 60 feet above the band, as in rehearsal-preparation of pending equinox." -- Keith Fullerton Witman, Mimaroglu
"Ectoplasmic psychedelic magic and mystery" -- George Parsons, Dream Magazine