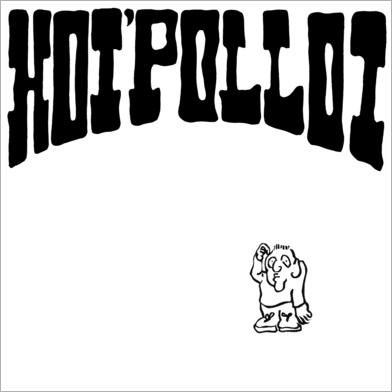 Hoi' Polloi
FV87/FE001 LP/MP3/FLAC
Released August 6, 2013
LP

MP3 Download

$9.99

FLAC Download

$10.99
Tracks:
1.

Who's Gonna Help Me?

(3:37)

3.

Seven Deviations

(1:08)

5.

Hoi' Polloi Peeks Out

(0:48)

7.

Satisfaction Guaranteed

(5:55)

8.

It's a Nice Day

(2:11)

10.

Sid Stoneman Gets Scale

(2:43)

11.

15 Miles to Mexico

(2:48)

13.

I Used to Think

(1:26)

14.

Balloon Man (live) [digital bonus]

(2:29)

15.

Satisfaction Guaranteed (live) [digital bonus]

(3:51)

16.

Stories (live) [digital bonus]

(2:38)

17.

15 Miles to Mexico (live) [digital bonus]

(2:42)

18.

Letters [digital bonus]

(1:57)

19.

Waiting Game [digital bonus]

(3:33)

20.

Sorrow Song [digital bonus]

(2:29)

21.

Snow [digital bonus]

(3:47)

22.

Happy Song [digital bonus]

(2:01)
Family Vineyard and Folk Evaluation proudly present the first authorized LP reissue of Richmond, Indiana's fabled Hoi' Polloi. The band's lone 1972 self-titled album, recorded over spring break at Earlham College by means of "bouncing" between two stereo tape decks, is a fantastic collection of country twangers, breathtaking singer-songwriter material, and bizarre tape cut-ups. With five songwriters in the band, what could have felt like another grab-bag student compilation instead feels like lost tapes of Emitt Rhodes hanging with Crosby, Stills, Nash and Young while Faust producer Uwe Nettlebeck makes a guest appearance in the control room.
Remastered from the original ¼" tapes, this deluxe vinyl edition comes jam-packed with extras: Extensive liner notes featuring Patrick 'The Lama' Lundborg's 2003 conversation with the band (expanded with newly conducted interviews), a digital download of the album featuring the original stereo mix of "Satisfaction Guaranteed" and a wealth of bonus material from the band members' vaults, including rare cuts from Earlham's annual student-produced "Crucible" LPs and a collection of never-before-heard live recordings.
Edition of 500 copies with reproduction of the original xerox insert and download code.
"Here's proof that great finds are still out there awaiting us." -Aaron Milenski