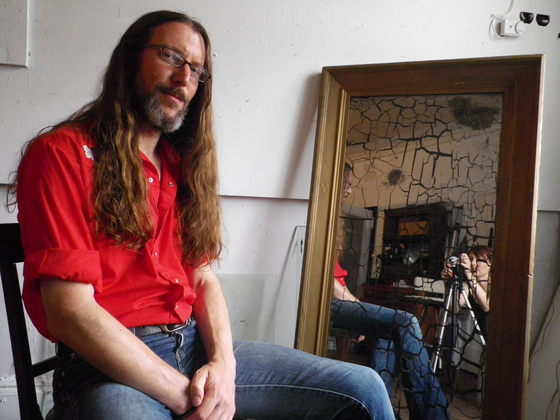 Booking Information:
info@wholly-other.com
Links:
Tom Carter's electric guitar work weaves strands of melody, drone, fuzz, and charged silence into intricately detailed instant compositions.
Best known for his work with iconoclastic acid-folk improvisers Charalambides (which he co-founded with Christina Carter in 1991), Tom Carter has focused on solo performances and recordings since 2012. His 2015 double LP on Three Lobed Records Long Time Underground is the final installment of a trilogy begun in 2009 with The Dance From Which All Dances Come and continued with 2014's Numinal Entry.
Tom Carter frequently collaborates with other musicians. His regular projects include a duo with No Neck Blues Band co-founder Pat Murano, free-rock improvisers Eleven Twenty-Nine (Carter, Marc Orleans, and Michael Evans), Spiderwebs (with Houston guitarist Sandy Ewen), Sarin Smoke (with Peter Swanson), Badgerlore (with Rob Fisk, Ben Chasny, and others), and various ensembles with Bay Area sound artist and composer Robert Horton.
Born just south of the Mason-Dixon line, and just in time for the Summer of Love, Tom Carter led a decidedly non-hippy existence being shuffled around various farm and mining towns in Maryland and Ohio by his newspaperman father, before finally making his way to Texas in 1985, just in time to watch all the good hardcore bands die. Already obsessed with American pre-punk, British post-punk, and all manifestations of psychedelia, Carter dove into the anarchic Texas music scene headfirst, forging his musical identity in its lysergic waters. Over the ensuing decades, he refined his evolving ideas of tonal immersion (and the quest for the perfect fuzz tone) into a layered sonic toolkit of rough beauty. He now lives in New York City.
Products:
Tom Carter & Loren Connors

FV94 LP/FLAC/MP3
There are no upcoming tour-dates for Tom Carter.
Check back soon for updates.